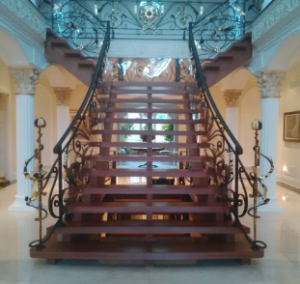 Your staircase provides more than a means to move from one floor to another. You can make a style statement with your staircase. Functionality, type of stair railing, and design all play an important role when choosing which staircase design will complement your home. What are the hottest trending staircase designs for 2020? Add never-ending charm and aesthetic beauty to your home with these top trends.
Sheer Luxury
Open concept staircase design tops the list of trends for 2020. The spiral staircase provides both functionality and elegance to your home. Its unique curvature provides for an interesting visual style. Opt for closed panels, customized stair railing, or even glass for a unique look. Building inspectors highly recommend the spiral staircase for its additional safety features for children and small pets. The spiral staircase also provides additional safety for public places and institutions.
Classic Looks
The classic cantilever staircase still has popularity both for modern and classical residences. The distinctive strength and contemporary look make it a favorite among today's homeowners. Use a glass railing or customized railing for a unique look.
Safety for Family
Once again, organic design and open spaces, as well as safety, play a role in the prominence of helical and curved staircases in popular home trends in 2020. The functional staircase has exquisite curves that make them a focal point of the building or home. The closed panel railing adds extra protection for children, those with disabilities, and pets.
Organic Spaces
The simple central spine staircase makes a comeback in 2020. For buildings without self-supporting walls, the simple design gives the structure a very classic modern look. The contemporary homeowner can choose options like painted steel or wood for their staircase design. Closed railings remain on-trend, partially for their aesthetic look and security.
Choose one of these contemporary design trends for your home. Call us today for the latest information on the latest styles perfect for your home.