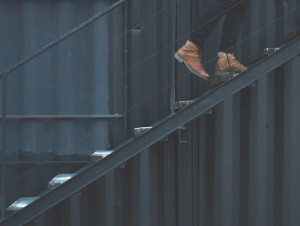 Your home deserves an elegant and secure cable railing system for your home. No matter if you have an interior or exterior staircase, or how the balusters spacing looks, you have several exciting options for your home. Complete your staircase with style with a quality handrail. The handrail has practical safety benefits like protecting guests around the pool area or deck. Choose a handrail system that makes a statement about your personal style.
Metal Handrails
Your handrail has several key functions. Guests use the handrail to steady themselves when they visit. The handrail also protects small pets and children. Older family members depend on your handrail to safely go up and down the stair. A durable handrail has a simple elegance that protects your family. The style does well both inside and outside. Ask our designers about our many handrail options like colors, styles, recommended balusters spacing, and finishes.
Mission Style
Want to make an artistic statement with a gorgeous floating staircase? A Mission Style handrail has durability and unique look that truly accentuates every modern home. Choose from a wide range of finishes like walnut. The mission-style handrail has a strong structure and a unique look. This style of handrail will match any home décor for any family. Choose from a number of materials like glass, iron, steel, cable rail, metal, and wood.
Custom Handrails
Ask about premium custom handrail systems for your home. Enjoy safety, style, and security for your family. Our incredible designs give homeowners excellent design options that fit every home and institution. Expect superb beautiful design and an elegant look every time. Trust the stair professionals at Stair Star to install the perfect cable railing handrail for your home.
Contact Stair Star
If you want superior artisanship and quality, call the staircase design professionals at Stair Star. Our friendly staff will be happy to help you find the perfect handrail for your home. We have an impressive array of quality materials and products. Contact us today.