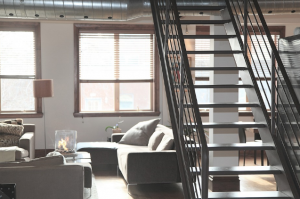 Falling down the stairs can cause serious injury. How can you make safe stairs for the elderly? The Stair Star team compiled this important guide for you. If you have any questions about how you can make your home more accessible for seniors or family members with physical limitations, please call our friendly Stair Star staff today. We will be happy to answer all of your important questions. Follow these simple steps to make your stairs safe for your loved ones.
Clear the Stairs
This might seem like an obvious step, but many homeowners leave toys, jackets, trash, and other objects on their steps. Make safe stairs for the elderly by clearing away any obstacles that can lead to tripping. Remember that seniors may have weakened vision and less mobility. They cannot easily sidestep your toddler's toy car on the top step. Regularly check the stairs for any objects that can lead to a tripping hazard. Have a basket next to the stairs to store any objects you find.
Lighting is Important
Always leave your stairway well lit. Day or night, you want to make sure that your elderly family members can easily see each step. You can install custom lighting, overhead lighting, or track lighting. Some lights have sensors that detect when someone is walking up and down the stairs. Never leave the stairs dark.
Add Tread or Secure Carpet
Some materials like smooth wood or tile can be slippery. Carpeted stairs can detach from the stairs making a tripping hazard. Be sure to securely install any carpet. Add individual tread for each step for extra traction and safety. Call the experts at Stair Star to find out what options are available for your home.
Handrails on Both Sides of the Stairs
Be sure that handrails are secure and on both sides of the staircase. They should be at elbow height for adults. Test the weight on the handrail. The handrails should easily hold the weight of an adult. The handrails should go from the bottom to the top of the stairs. If you do not have safe handrails, our experienced team can help you install handrails to ensure security for your family.
Shoes Matter
Believe it or not, what footwear your family owns can affect the safety of your stairs. For example, if your aging mother wears orthopedic slippers, she is more prone to fall on the steps. Encourage use of safe shoes with tread. If the steps are uncomfortable to step on, call us about how we can help you make your stairs more secure and safe for your loved one.
Call the stair experts at Stair Star. Our experienced team will be happy to help you. We will answer all of your important questions. We pride ourselves on superior high quality workmanship and design. Contact us today.