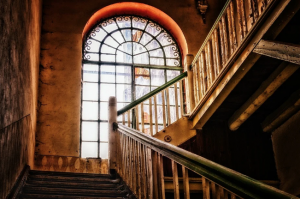 An elegant staircase showcases beautiful design and character. Both functional and essential, your choice of balusters should both appeal to you aesthetically and provide safety for your family members. Explore these wood and wrought iron balusters stairs designs for your home.
When selecting the right balusters for your stairs, consider some of the pros and cons of each. Stairs design involves more than what looks good. You need balustrades that have strength and durability, while also exuding refinery and beauty.
Strength – Wrought iron balustrades have significantly more strength than wooden ones. They are not susceptible to pests like termite. Wood succumbs to moisture. Wrought iron does not need as much maintenance as wood.
Versatility – Both wood and wrought iron can be crafted into beautiful elegant balustrades for your stairs. While there are more color options with wrought iron, both wood and wrought iron have many exciting style choices for the homeowner.
Aesthetics and Style – Depending on the style of your home, you may prefer wood or wrought iron. Contact our talented designers about your preferences here at Stair Star. Our seasoned professionals will direct you towards the ideal style for your home.
Which to Choose?
As you can see, there are many benefits to each style. Wood has a traditional elegance that is timeless and beautiful. Wrought iron can be custom designed to fit any home style. If looking purely for strength and durability, wrought iron is the superior choice. Wood requires more maintenance than wrought iron simply because the natural material is affected by moisture, termites, and wear and tear.
Some things to consider when choosing the right type of balustrade for your home include:
What is your overall style and aesthetic?
Do you need to an accessible staircase for aging family members?
What is your budget?
Do you want a custom design?
What colors and finishes work best with your home?
Do you worry about termites?
How much use will your staircase have over time?
Call the stair experts at Stair Star. Our friendly staff will be happy to partner with you to build the stair designs of your dreams. We will help you find the right materials and style for your home. Contact us today. We will be happy to hear from you.