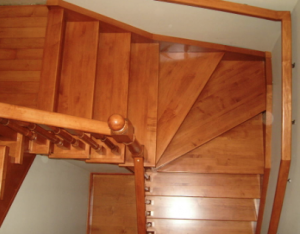 Keep your wooden stairs looking beautiful when you clean wood stairs. No matter the type of wooden staircase designs you have in your home, regular maintenance will keep your staircase looking new and attractive. Hardwood stairs can be easily scratched, dented, and damaged if you do not care for it properly. Follow these simple steps to keep your stairs looking elegant and luxurious each and every day!
Clean the Stairs
Sweep and vacuum your steps on a regular basis. This keeps the wood finish in good condition no matter the wooden staircase designs. Use an attachment or bare-floor vacuum. Mop with a soft mop and natural cleaner.
Don't Leave Standing Water
Water will remove the finish of your stairs. Don't leave spills on your steps. Walking up the stairs in shoes will also leave mud and grime that will damage your steps. Any water or mud can leave noticeable water spots. Give your steps a quick wipe at the end of the day. Rug treads can reduce damage from shoes and dirt.
Remove Dents and Scratches
Examine your floor regularly for dents and scratches. These happen from daily use, especially if you don't have protective rug treads on the steps. A layer of wax can repair a waxed wooden floor. Applying finish may help address the issue.
Avoid Any Harsh Materials
Furniture, shoes, vacuums with rotating blades, and more can seriously damage your staircase. Cleats and heels can do incredible damage to your steps. Always vacuum with a soft brush or use a broom or soft-head mop.
Caring for your staircase with these simple steps will ensure years of elegant beauty. Always clean your staircase regularly. Avoid harsh soaps, materials, and footwear. If you see the damage, repair it right away. Star Stair provides resurfacing services to return your staircase to a place of a gorgeous luxury. Contact our seasoned professionals today. We are ready to help you.