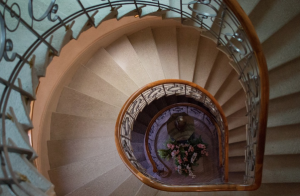 You want your wooden stairs to be safe for your family and guests. One of the easiest ways to make hardwood stairs safer is installing beautiful treads and railings. By making your stairs more secure you prevent personal injury and falls. At Stair Star, we prioritize safety and provide you with a beautiful staircase design that is both attractive and secure.
Stair Tread Basics
What are stair treads? Sometimes hardwood stairs can become tripping hazards. Whether they get slippery or family members with physical limitations find them difficult to climb, stair treads and strong railings provide the most safety for your home. Update your stairs with eye-catching new stair treads. They come in a wide variety of options:
Wood Treads
Steel Treads
Extra Thick Stair Choices
Stone Treads
Full Thickness
Anti-Slip Treads
Diamond Grip Treads
Retro Fit Options
Thin and Thick Types
Glass Treads
Tile Treads
Composite Treads
You want to find the best-customized stair tread options for your home. While there are less expensive options, the reality is that a poorly installed stair tread can cause a bigger hazard in your home.
When you need to install stair treads in your home, call the experts at Stair Star. We promise the best custom designs for your home. We will inspect your stairs and find ways to make them more attractive and more secure. Don't worry about a guest tripping on your steps again. We guarantee high-quality workmanship and excellent customer service.
Installation
When you need to add new stair treads, call a professional. We have the best equipment and the experience you need to make your staircase safe. Typically, you want at least two people working on the project. While installation does not take a very long time in comparison to other home construction projects, it can be tedious. Installation requires several key steps:
Brace the Top Stair Treads
Work from the bottom up
Space holes evenly and fill
Install the landing
Install railing and balusters
Other Safety Features
Besides installing high-quality treads on your staircase, you can also make your home safer with these options:
Sturdy double banister
New wider step design
Custom lighting
Adding a landing
Replace rickety steps
Update older stairs
Sturdier materials
When you need high-quality stair installation, call Stair Star. We promise the best in staircase installation, resurfacing, repair, and design. Contact us today. We will be happy to answer all of your questions. Our friendly staff promises to provide you with affordable home solutions every time. Call us.