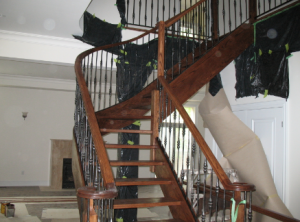 Have your stairs seen better days? Do they need resurfacing, repair, or replacement? Refinishing a staircase can restore your old wood stairs to the beauty of days past. Should you try to repair the stairs yourself or hire a professional? Let's check out these professional tips.
Safe Stairs for All
Stairs need to be well-lit, have sturdy handrails, and should not have any tripping hazards. Refinishing a staircase is much different than repairing broken steps. Make sure that steps are secure. Check for cracks, loose boards, squeaky steps, broken steps, or steps that are not even. Check the handrail to make sure it is sturdy and will hold the weight of an adult without any damage to the wall. If possible, a handrail on each side of the staircase is best, especially if family members have physical limitations. Contact Stair Star for a professional inspection of your stairs.
Refinishing Basics
Professional craftsmen at Stair Star can provide the detailed artisanship you need. The first step involves stripping the paint from the stairs. You want to have the area as ventilated as possible. Any children, pets, or adults with breathing issues should be elsewhere during the renovation. Vent with a fan and open windows, especially when sanding away the old coat. Sanding can take a very long time to complete.
The Landing
Refinishing the landing can be an important part of the process. If the landing is uneven, has broken boards, or lacks structural soundness, then it may need to be replaced outright. Watch for loose boards, spaces between the wall and the landing, or a landing that "gives" too much. A professional inspection can determine if you need to worry about the structural safety of the landing.
Final Steps
Staining the wood and applying polyurethane finish up the project. These final processes involve very, very smelly chemicals. The professional contractors will ensure that the entire area has been repaired, cleaned, and vacuumed before applying the stain and final coats. They will apply a rich and even coat throughout the stairs. After the final coat dries repaint any backboards and molding. Enjoy exciting new stairs!
Stair Star professionals provide the best workmanship in the entire region. Our family business prides itself on quality installation and stair resurfacing. Call us today.