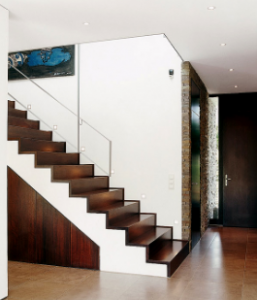 Your staircase makes a statement about your home or business. Whether you opt for timeless traditional staircase design or more eclectic staircase ideas, be inspired by these exciting new staircase trends for 2020. These trends are ideal for homes, institutions, architectural buildings, and businesses. Find the perfect design for you today.
Spiral and Square
Spiral staircases have a timeless look. They provide both function and geometric beauty to a home or business. A square spiral has a modern sleek look. Combine with natural steps or industrial concrete for a bold beautiful statement. The railings add extra balance and safety. Opt for glass design or traditional iron railings. Wider steps make this style ideal for heavy traffic or a home with children.
Industrial Eclectic
Dare to be different. Spark conversations with unique custom staircase designs. Ideal for small spaces that need a different type of staircase. Add bold graphics to the wall or colorful hued glass casing to the rails for a unique look.
Choose a beautiful organic curving staircase for your home. The stairs literally look like they are floating in pure sophisticated elegance and luxury. Create a seamless transition between each level. Combine with tasteful artwork and chandeliers for a complete grand style.
Classic Wood
Use custom wood design for classic banisters and a traditional romantic look. Enjoy a timeless style that has endured for ages.
Symmetrical
Bring an impressive sense of symmetry to your entryway with crisp neutral-toned steps and custom railings. Adorn with lush plants and a modern geometric look. Stun guests with the ultimate in an exquisite design.
Double Staircase
A grand entrance with a double staircase truly sets your home or business apart from the others. Denote sophistication, culture, and artistry with an impressive double staircase in traditional natural wood tones. Adorn with a grandiose chandelier and ornate custom banister. Truly breathtaking!
Contact the Star Stair Experts
Whether you want traditional elegance, modern eclectic, or a grand double staircase, the experienced Stair Star team will help you design the staircase you deserve. We provide a wide array of exquisite designs and options and work within any budget. Call our friendly staff today. We will be happy to help you.