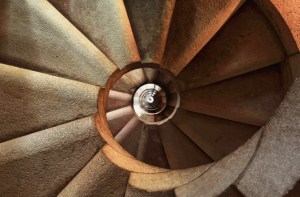 Does your home have an older staircase that needs an upgrade? Believe it or not many homeowners ignore this important fixture when selecting a home. They may end up with dysfunctional stairs, worn wooden staircase railings and wrought iron, or even old carpeted steps. The truth is that you need your stairs to be elegant, safe, and functional.
The Ugly Carpeted Stairs Dilemma
Maybe your home has carpeted stairs or you are considering carpeting your stairs. You need to think about a few factors before deciding. Not all stairs benefit from carpeting. For example, simple unattractive staircases or very noisy staircases benefit from carpeting. Why? Despite the beautiful wooden staircase railings and wrought iron, some staircases cannot be painted. Some hardwood stairs can be destroyed by nailing in carpeting. You need to consider this before carpeting your stairs.
Safety Issues
If you have any staircases in your home that are dangerous, you need to contact our incredible team at Stair Star today. Don't wait until an accident occurs. A fall down the stairs can cause irreparable injury or even be fatal. What are some signs that your stairs need to be replaced and repaired right away?
Banister cannot hold weight
Railings are pulling from wall
Steps are broken or missing large sections
Carpet on steps is loose
Steps noticeable bend under weight
Outside steps show clear signs of damage due to weather
Steps are missing handrails
Handrails are unstable
Poor lighting
Missing steps
Missing tiles
Rotting or cracked wood
Crumbling concrete
Uneven steps
Slippery steps and handrails
Handle structural issues, repairs, and staircase replacement with our team at Stair Star. We will assess how to best repair or replace your staircase affordably. Don't wait until an accident happens.
Rot
Exterior staircases are prone to rotting due to their exposure to the elements. This can lead to an unsafe situation. Additionally, old rotten steps date your home and detract from your home value. You need an experienced woodworker to repair and replace rotten steps.
Contact Stair Star today about your staircase needs. Our helpful staff will be happy to answer any of your questions. Contact us today.