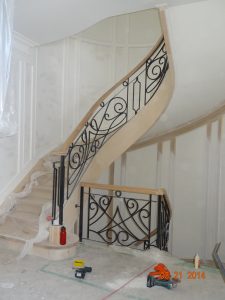 Choosing a railing for your staircase may not seem like the biggest decision in the world, but it's still a pretty important choice. There are many factors to consider before you choose a railing- where it will be located, who will use it, who will see it, etc. Before you choose on a whim, ask yourself these questions.
How Big of a Statement Do You Want to Make?
Adding a railing in your home, or outside, is the perfect opportunity to create a statement piece. There are so many options to choose from at Stair Star. If you are looking for a homey, comfortable feel, you may want to consider wood railings. If you want a modern, fresh, open look, you can go with a glass railing. But, if you want to make a huge statement, you can go with a custom design. If you are looking for some inspiration, check out our gallery, which showcases some of our most beautiful works of art.
How Durable Should Your Railing Be?
Before you choose a railing, you should think about who will be using the staircase. If the railing is in an area that is often utilized by children or the elderly, you should consider something extremely sturdy to prevent accidents.
Aside from the people using your railing, you should also consider where your railing will be located. If your railing is outside, then it needs to be able to withstand multiple weather types. This is especially important when installing railings in Ontario. You'll want to make sure your railing can handle the low winter temperatures and summer rainfalls.
What Other Decorations are in the Area?
If you're not interested in turning your railing into a statement piece, or better yet, if you are, then you should consider the design principles in the rooms that will feature the railing. Depending on the surrounding decorations, the railing you choose may look out of place, and take away from the beauty of your living space. If your home is decorated in a modern style, you should consider a glass railing. Glass railings scream modern design, and blend fairly well with almost any room type. If your home has more of a vintage feel, you should look into wrought iron railings. Wrought iron railings are not only bold but extremely durable as well.
How Easily Can I Clean The Railing?
All of our railing choices at Stair Star are fairly easy to clean, but some might take a little extra time. Wood railings are probably the simplest railing to clean; you just need to wipe it down every now and then. Our custom wrought iron railing are absolutely beautiful, but intricate designs might take a little longer to clean (we still think it's worth it). If you are worried about fingerprints, especially if you have young children, then you might want to consider that you may be cleaning your glass railing more often than you'd like.
If you're still not sure what kind of railing you need, give us a call. We are more than happy to help you find the railing that best suits your needs!