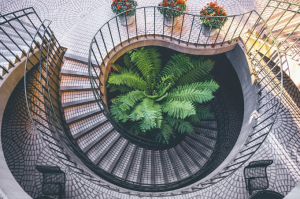 Choosing the right stairs for your home doesn't have to be difficult. You might have questions regarding the different types of stairs. Are wrought iron railings expensive? Can you renovate old stairs into something new and exciting? What materials have the most durability and aesthetic value? Let's talk about what you need to know about the different types of stairs.
Straight Stairs
Many homeowners choose straight stairs for their home. These have a simple ascend/descend. The simple construction makes them ideal for most buildings. Straight stairs usually do not need an intermediate supporting structure. Line the stairs easily with railings in wood or iron. Given their strength and reliability, are wrought iron railings expensive? Wrought iron railings provide you with a versatile classic look that matches any style at a reasonable price. Speak with our design professionals today about the best materials for your residence.
L-Shaped Stairs (Quarter Turn Stairs)
The L-Shaped staircase has a 90-degree bend, usually achieved by a small landing. Quarter Turn steps add privacy and have a unique look. Many homeowners consider L-shaped stairs safer, especially for children and with family members with physical limitations. The landing gives time to "rest" before continuing upstairs. These can be difficult to build. Handrails for L-Shaped stairs need more engineering prowess.
Winder stairs are a variation of the L-shaped stairs. Instead of a landing, they have a triangular step. These require less space than other types of stairs. Homeowners with large older houses may have a winder staircase as traditional kitchen access for the kitchen staff. Modern homeowners often incorporate winder staircases into their contemporary aesthetic.
U-Shaped Staircases
The U-Shaped staircase has two parallel flights of stairs. A landing connects the two with a 180-degree turn. They offer a resting place but take some time to construct. They have a unique design that requires extra skill.
Other Staircases
The spiral staircase and curved stairs both have a helical arc. Spiral staircases often radiate around a single center pole. Curved stairs have a classic elegance. They do not make a full circle like a spiral staircase. Curved staircases create luxurious entryways. Ladders have gained popularity as sustainable design in compact spaces. They might have wheels. Homeowners can fold the ladder up.
Contact our friendly professional staff today about your home project. With years of experience, we can help you find the perfect staircase to meet your needs and unique tastes.