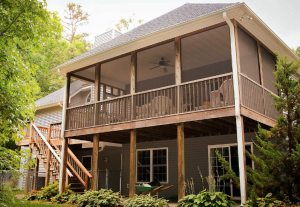 Which type of wood should you choose for your outdoor stairs? With so many choices, choosing between hardwood stairs, pine stairs, or another material can be difficult. Making a decision depends on a number of factors like climate, style, and even if the stairs are for a deck or the front porch. Let's cover the pros and cons of this year's top trending wood options.
Deck Stairs
The number one choice for outside deck stairs continues to be treated lumber. Why? Treated lumber resists rot better than hardwood stairs and other materials. Use long-lasting treated lumber for:
Deck Stairs
Basement Steps
Back Porch Steps
Outbuildings
Treated lumber resists rot and deterioration. However, treated lumber is not very attractive. Choose from several rail and decorative varieties. Always speak with your stair contractor about how to make outdoor steps safe to avoid personal injury.
Pine Steps
Another popular option for outdoor stairs is pine. Easy to cut and install, pine remains an inexpensive option for homeowners and businesses. This soft wood needs high quality paint or stain to seal it. Pine is very prone to rot and deterioration.
Cedar
Do you want a more attractive sophisticated look? Cedar has a nice red tint and a beautiful grain. Softer than other options, cedar lacks the amount of strength as other woods and often has a bigger price tag. However, cedar does stain well and provides a luxurious option for the discerning homeowner.
Exotic Hardwoods
If you want the best in elegance and luxury, choose teak or mahogany. Each have a distinct look and grain. Seal them well to keep their aesthetic beauty for a long time. Hire professional installers to ensure years of use.
Safety Concerns
No matter the option or style you choose, be sure that your outdoor steps have handrails and other safety features. Add lights to keep the steps well-lit at night or during rainy days. You may need to add extra tread to prevent slips and falls. Regularly maintain your outdoor steps.
Call the stair experts at Stair Star. Our expert team offers the best stair installation in the region. We pride ourselves on providing every client excellent customer service and superior installation. Our gorgeous stairs will last for years to come. Choose the best when you choose Stair Star. Contact us today.