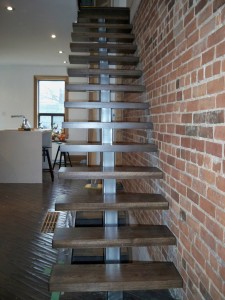 Of the home's 3 primary centres of risk – the kitchen, the bathroom and the stairway – the stairway is the most often overlooked. But it shouldn't be. Falls account for more than 1/3 of all fatal injuries in the home each year and the majority of those occur on the stairs. In fact it's estimated that more than 2,500 Canadian children are seriously injured each year falling on the stairs. As such, any custom staircases in Toronto that don't take safety into account are accidents waiting to happen.
Designing and Building Safe Custom Staircases Toronto
Safe stairway design reflects an awareness of the dangers involved and finds discreet but unmistakable ways to minimize or eliminate them. Safety should be engineered into every element of your stairway and here's how that is done:
Establishing a Safe Angle – The angle of the stairway is determined by dividing the total rise (distance from floor to floor) into equal parts of not more than 7 ¾" each. On a non-spiral staircase each tread should be 11" deep to allow for comfortable placement of any sized foot. As our brains are conditioned to expect that each stair will be the same size mismatched stairs are a major cause of stair-related accidents.
Providing Proper Railings – Many believe the terms "guardrail" and "handrail" are interchangeable when actually they are 2 different things. A guardrail appears on upper floors and protects people from falling into the stairwell. Many homes in fact don't have guardrails but instead use half-walls or even full walls to ensure safety around the stairwell. A handrail meanwhile, is specifically designed to give people on the stairs something to hold onto as they ascend or descend and it should be no more than 6 ¼" in circumference. Both guardrails (if used) and handrails must be able to resist 200 pounds of pressure being applied from any direction.
The Importance of Proper Lighting – A stairway is not the place where you can cut back on lighting to save energy. Every new stairway with more than 3 treads in Canada must have a light switch at both the top and bottom and provide at least 10 ft candles of illumination. Poor lighting is a major cause of stairway accidents which is why specific guidelines regarding light levels in new stair construction have been adopted in recent years.
Some Important Stair Safety Tips
Never rush up or down the stairs. All it takes is one misplaced child's toy or missed handrail to send you careening down the stairway if you're moving too fast.
Don't ascend or descend the stairs in your socks if you can help it as this will greatly increase your risk of slipping and falling.
Always keep one hand free to grab the railing when you are carrying something up or down the stairs.
The type of breathtaking custom staircases in Toronto we create at Stair Star will enhance both the appearance and safety of your home's interior. Give us a call on 416-746-4462 to find out more.