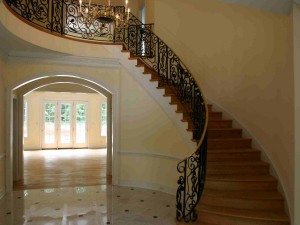 Circular or "spiral" stairs are a quintessentially modern touch that actually have a long history. The oldest extant spiral stairs can be found in Sicily and are some 2,500 years old. There are tales of circular staircases even older than that but no physical proof remaining to back up the claims. Today, circular stairs in Toronto are considered cutting edge design and, in the sense that today's circular stairs are marvels of design and material efficiency, they are cutting edge. But they're also extremely practical and replacing a traditional stairway with circular stairs can really open up a space.
Stair Star: The Leading Builders of Circular Stairs in Toronto
A beautifully designed and crafted set of circular stairs from Stair Star adds an air of distinction to any home, townhouse, loft or office. Whether you enlist us to craft a double helix stairway for you (i.e. one with two railings and no central support column) or a single helix (single railing with support column) or you wish your circular staircase to be a more indulgent, expansive affair the final product will dazzle your guests and add real bottom line value to your home. Some of the other attributes of circular stairs in Toronto from Stair Star include:
Elegance: The graceful arc of the circular staircase is one of the most beloved features in all of architecture. They're an evocative element that never fails to impress and, even more so, to capture the imagination of all who encounter them.
Practicality: Who doesn't want to get more out of the floor space they have? Short of building an addition to your house there are very few ways to actually increase your useable square footage. But the amount of space opened up by the installation of a circular stairway can (depending on the design) be significant and the possibility of installing one should always be on the table when discussing additions or general home renovations.
Ease of installation: Particularly with more compact spiral stairs the installation time can be dramatically less than installing a complete traditional stairway. Maintenance can also be reduced as there is often (though not always) less "real estate" to keep clean on a circular stairway.
Sheer beauty: We encourage you to go to our online circular staircase gallery and soak in the sheer beauty of these timeless architectural creations. Each embodies the joy and passion we invested in their creation and each has added immeasurable aesthetic value to the homes where they were installed.
Stairs are typically the kind of thing that gets taken for granted during the initial planning and design phase of the average home. But if you're building a custom home that you have some design control over or you're in the process of renovating your current home you should give serious consideration to the myriad aesthetic and practical benefits circular stairs in Toronto can provide. Call Stair Star on 416-746-4462 to find out more.